Join Us
The
13th Annual Chip In for the Promise of Home Golf Tournament
is Tuesday, September 27th, 2022. Join us for a round of golf at the beautiful
WingHaven Country Club.
 We invite work groups, friends, and community members to join us for a fun day of golf. Proceeds from the Chip In golf tournament support affordable and accessible neighborhood homes for adults with intellectual and developmental disabilities in St. Louis.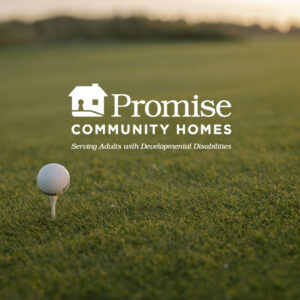 Your Impact
Imagine living on less than $800 per month. This is the reality for most adults with IDD who live on supplemental security benefits. This is why YOU are so important. Our 86 homes provide an affordable, long-term solution to the housing crisis for more than 300 adults with IDD. A Promise home is a lifelong home where adults with intellectual and developmental disabilities can safely age in place. Because of your support, Promise Community Homes can continue to provide safe, affordable homes where adults with IDD can live their lives to the fullest.
We invite you to sponsor
the Chip In Golf Tournament. To
register your foursome,
visit our website at
www.PromiseCommunityHomes.org
today!
Our Mission
Promise Community Homes, formerly Rainbow Village, enhances the lives of individuals with intellectual and developmental disabilities (IDD) by providing safe, affordable, and well-maintained neighborhood homes. Before the founding of Rainbow Village in 1973, individuals with IDD lived in institutions; often far away from family, without access to community services or employment, and without any choice about where they lived. Promise Community Homes is the premier housing provider of choice for adults with IDD in the St. Louis metropolitan region. Today, Promise Community Homes serves and supports approximately 300 adults with IDD through 86 accessible neighborhood homes and hosts 1,000 visitors, residents, and neighbors of all abilities at our bustling community center every year.